Episodes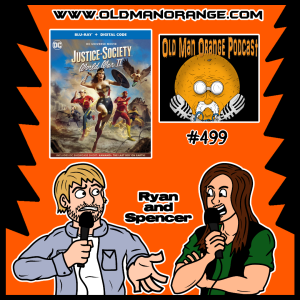 Monday May 17, 2021
Monday May 17, 2021
We are talking all about the brand new DCU animated feature of Justice Society World War 2 on the podcast. This film is fantastic and may be top 10 material of all the DCU pictures released. Multiple twists and turns that took us by surprise, action packed, a fantastic roster of characters, and brings back the good ole Superman quote of "Truth, Justice and the American Way!"
Beyond just the amazing war film, that shifts gears at each new act keeping the whole pace fresh and alive. We also get another amazing DCU short of Kamandi - The Last Boy on Earth. Beyond awesome and just adds to the value of owning the physical copy of the movie. And to top it all off we get the sneak peak at the next film, Batman The Long Halloween Part 1. One of those comic book stories that we have been looking forward to seeing in animated form since the early days of these DCU pictures. 
So come on by and join us on another adventure of OMO Podcast.
Old Man Orange is Spencer Scott Holmes & Ryan Dunigan - 2021 - "Young Adults, Old Man Attitude. Talking retro games, classic films and comic good times with a crisp of Orange taste." - www.OldManOrange.com
Support the Show the easy and simple way, by using one of our Amazon Links to make your purchases. Doesn't cost you a penny but sends a little something our way. Thanks!
Justice Society WW2 - https://amzn.to/3oqAmFi
Batman Long Halloween Part 1 - https://amzn.to/3bxHZVA
Grab some comedy with,
Pizza Boyz, the sitcom styled Indie Comic series by Spencer Scott Holmes 
Indy Planet - https://indyplanet.com/?s=Pizza+boyz
Amazon Kindle Unlimited - http://amzn.to/2Dsw1Jk
Comixology Unlimited - http://bit.ly/2w55bI8