Episodes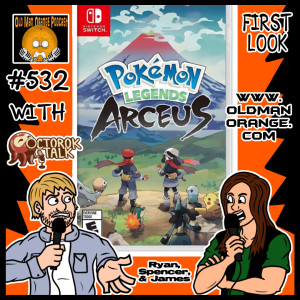 Monday Jan 31, 2022
Monday Jan 31, 2022
We are doing a first impressions conversation on the new and totally fantastic game of Pokemon Legends Arceus. Easily one of the best experiences to hit the Switch or any console for that matter. And here we are only doing our initial first dive into the world. The new features, the classic turn based gameplay with a fresh take, darker creatures like the initial creations vision, and making catching Pokemon feel magical again. So much great choices here. With a joint collab of James Artville from the OMO spinoff Podcast of Ryan's, Octorok Talk, come join us all for part 1 of our Pocket Monters journey. 
So, come on by and join us on another adventure of OMO Podcast.
Old Man Orange is Spencer Scott Holmes & Ryan Dunigan - 2022 - "Young Adults, Old Man Attitude. Talking retro games, classic films and comic good times with a crisp of Orange taste." - www.OldManOrange.com
Our link tree with all the places one could go for OMOP - https://linktr.ee/OldManOrange
Listen to Octorok Talk - https://octoroktalk.podbean.com/ 
Support the Show the easy and simple way, by using one of our Amazon Links to make your purchases. Doesn't cost you a penny but sends a little something our way. Thanks!
Pokemon Legends Arceus - https://amzn.to/3AOOLBB
Grab some comedy with,
Pizza Boyz, the sitcom styled Indie Comic series by Spencer Scott Holmes 
Indy Planet - https://indyplanet.com/?s=Pizza+boyz 
Amazon Kindle Unlimited - http://amzn.to/2Dsw1Jk
Comixology Unlimited - http://bit.ly/2w55bI8
Global Comix - https://globalcomix.com/c/pizza-boyz?lang=en
Pizza Boyz and Old Man Orange Merch - https://www.etsy.com/shop/OldManOrange